Let's hear it out from investors themselves
We receive messages from investors on a daily basis about how an investment in Boon VR provides an opportunity for them to capitalize on the rising VR wave and transform the healthcare industry, while doing their day job.
I initially thought of ending the post here, but last week I was going through in more detail the origins of VR to understand why someone invented VR? What emotional and commercial need did they want to fill by creating a new form of human-computer interaction? What I found was pretty mind-blowing. I'd like to share it with you all.
19th century times - 360 degree paintings
In the early 19th century, landscapes and historical scenes painted on a circular canvas strip provided viewers a 360-degree view. The concept of immersing the viewer in a 360-degree, wrap-around scene was groundbreaking. For the first time ever, people could feel like they were visually transported into history or distant vistas.
1920s - World's first commercial flight simulator
Edwin Link created it to give novice pilots on-the-ground training before they hit the skies. Sounds familiar?
1950s - Sensorama
The Sensorama was intended to fully immerse the individual in the film and was created by cinematographer Morton Heilig.
1960s - Two Philco Corporation engineers develop 'Headsight' for the military
Headsight was created to allow for immersive remote viewing of dangerous situations by the military. It incorporated a video screen for each eye and a magnetic motion tracking system that was linked to a closed circuit camera. Head movements would move a remote camera, allowing the user to naturally look around the environment. Headsight was the first step in the evolution of the VR head mounted display but it lacked the integration of computer and image generation.
1987 - Term "Virtual Reality" coined
Jaron Lanier, founder of the visual programming lab (VPL), coined the term "virtual reality". Through his company 'VPL research', Jaron developed a range of virtual reality gear including the Dataglove and the EyePhone head mounted display. They were the first company to sell Virtual Reality goggles (EyePhone 1 $9400; EyePhone HRX $49,000) and gloves ($9000).
From the 1980s and onward, VR headsets continued to advance and be used for a variety of purposes from NASA research to gaming.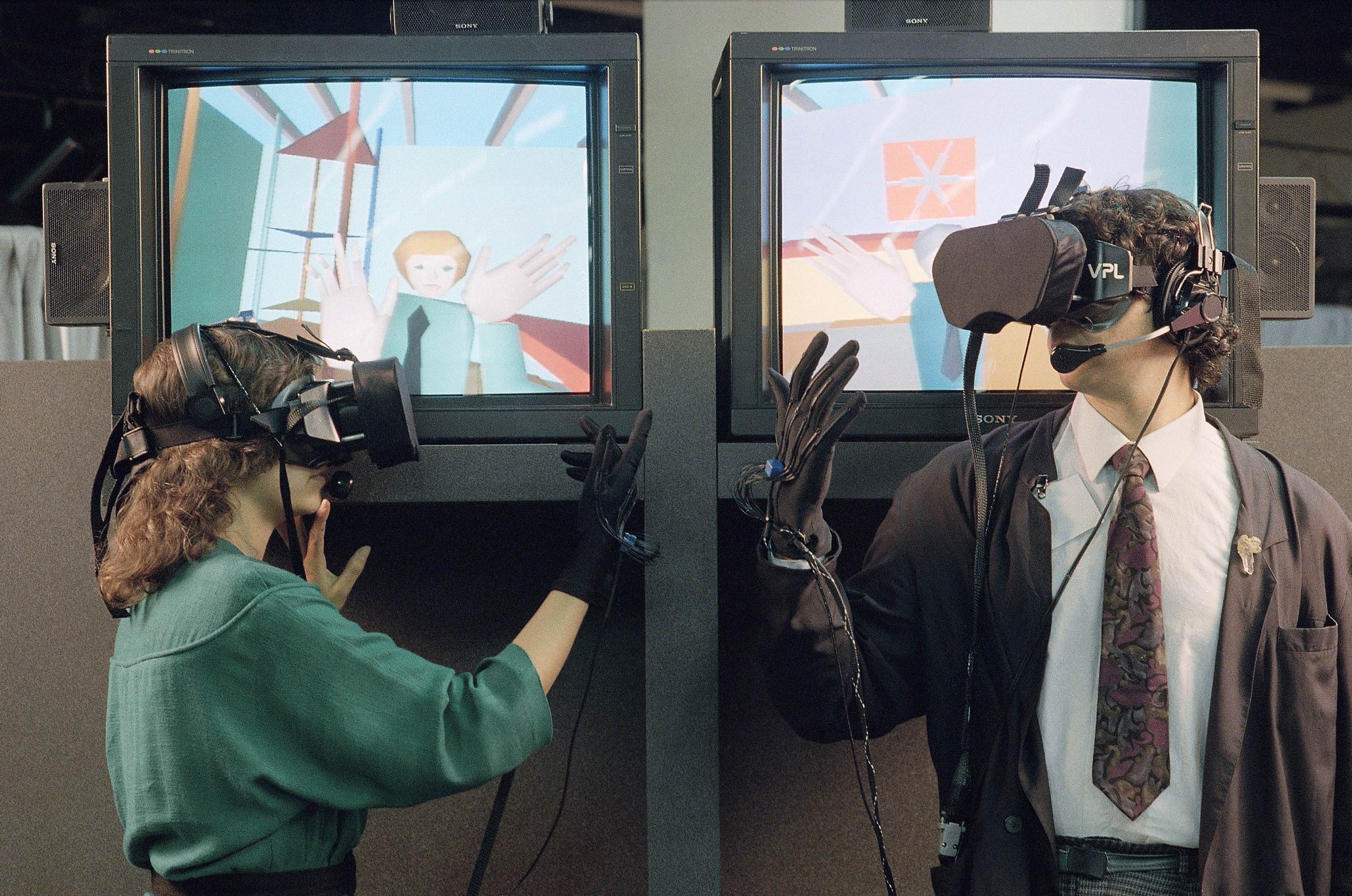 The Eyephone system on display at the Texpo Telecommunications Show, San Francisco - June 7,1989
2013 - Oculus DK1 released
The brilliant Palmer Luckey invented the Oculus DK1 that was released as Oculus Rift in 2016 - the first commercial VR headset that performed comparatively well, at a good price and had greatly improved design. The Oculus Rift headset shook the market and made VR commercially viable! Thereon, tens of companies started to develop virtual reality headsets and input controllers of various ranges, including tech giants HTC, Samsung and Google.
Oculus Rift
2017 onward - Golden age of VR
Advancements in VR hardware and software are happening rapidly, making this immersive technology more ready to become integral in the way we work, train and communicate everyday.
Boon VR is proud to be on the forefront of VR software.
Just as the first 360-degree painting exhibit in the 1800s changed the way that people engage with history, so too is Boon VR's platform changing how doctors keep up with the latest medical training advancements.
Ridhima Parvathaneni
Boon VR